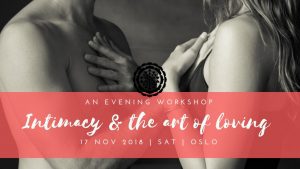 A workshop for couples and singles
with Yoga & Tantra teacher Aurora Georgijevic
Sometimes we can feel extremely intimate with a person who is far away from us physically, and sometimes we feel as if we are on different planet with the person who we are having an erotic interaction with. What is it that makes us feel like that? What is the nature of intimacy, of that delicious feeling of being so close and open with another being? And what is it that makes us yearn for it so much?
Intimacy represents a sense of closeness, of something deeply meaningful, which we all search for. It is a fundamental need we all have, to feel intimately united & connected with others, with nature, with our life. 
We all seek to feel that profound intimacy, to melt into sweetness until we feel as one. But what does it truly mean to be intimate? 
Sacred Intimacy is not a single technique or activity. It is an approach of welcoming the entirety of your body – physical, mental, emotional, spiritual and sometimes erotic with another. Intimacy is wrongly understood as appearing only between lovers. In fact intimacy is a state of inner openness to life, of living courageously and vividly united with our surrounding. When our heart is open and free of inhibitions, shame, guilt, frustration, expectations and fears, it naturally opens and expands to unite and connect with the others. 
The tantric system is teaching us how we can open ourselves and experience intimacy consciously, always. It offers guidance on how to relax and open up and dare to be intimate.
Intimacy in erotic relationships becomes a gate to endless nuances of happiness, regeneration, love, ecstasy and spiritual awakening. Intimacy is in fact a condition for being truly and deeply fulfilled in relationships, but it requires courage and willingness to learn and to open oneself deeper and deeper. Even though it is something so crucial for our happiness, we spend so little time in understanding and putting energy into it. 
This workshop will be a journey into the world of intimacy & love. You will be given keys on how to begin practicing intimacy, how to dare to open up. It will contain both an inspiring talk and exercises to help us to experience intimacy. It is a clothes on workshop that is open to both couples and singles.
Info
Place:
Zen house, Sporveisgata 29, 0354 Oslo
The entrance is around the corner and ring the bell 'zen 2. etg'
Time:
Saturday 17th November 6 – 9.30 PM
Price:
250 kr if paying in advance, on Vipps 908 17 632 (Tanase Constantin) or to account 0539.5752490
300kr if paying at the door (not guaranteed a space)
Payment = Sign up
For sign up or more info please contact us on phone 461 42 108 or email to post@natha.no 
Looking forward seeing you 🙂